Restoration and cleaning business consulting, advisory service, and professional training.
Our hands-on coaching, consulting, and advisory services for companies in the restoration and cleaning industries focus on critical areas including strategy, sales and marketing, sustainability, positive cash flow, and profitability.
Consulting and coaching to grow your restoration and cleaning business quickly and profitably
---
Providing advanced business solutions to grow yourself, increase your company profits, and develop your people.
Coaching to Help You Elevate Your Business
Disasters Happen, Prepare for Recovery
Download our Business Continuity Guide today for FREE.
Cleaning and Restoration Advisory Services
Consulting Services
Project-Based Engagements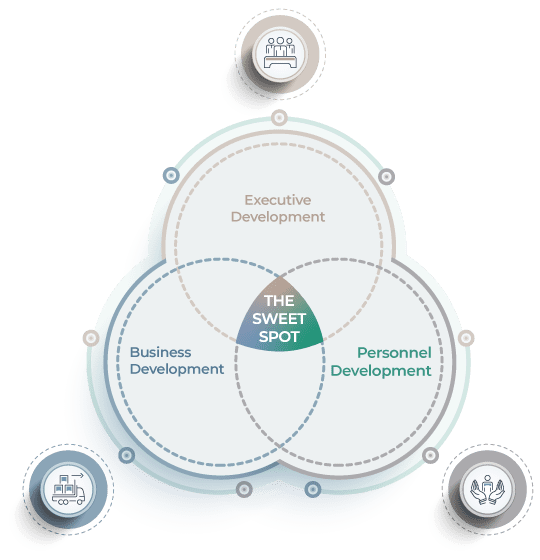 Ready to grow your restoration or cleaning business?
We developed our unique, three-point Sustained Profitable Growth™ approach to working with companies. Using this approach solves business issues and develops the professional and managerial acumen of key individuals to grow restoration and cleaning companies, creating a greater business impact.
This allows us to offer more effective solutions to business problems, using performance and tracking measures to address the root causes of the problem, rather than the symptoms.
Trusted for 30+ Years as a Restoration Industry-Specific Consulting Firm
Restoration and cleaning companies face challenges unique to the industry. While some are external, the majority are internal, including hiring top-level talent, understanding best practices in policies and procedures, improving communication, and furthering sales and marketing. It is important to understand benchmarks and key performance indicators in your company's financials and be aware when targets are missed. We show you how.
You deserve the restoration and cleaning business of your dreams
Hiring us will get you there faster without all the headaches
In 2020, Violand clients collectively averaged benchmarks that were well beyond the restoration and cleaning industries averages for growth in sales, net profit, and owner equity.
Your Business Development Advisors
Scott is recognized as the leading authority in human resources, organizational development, and organizational leadership in the restoration and cleaning industries. He consults with numerous businesses and professionals to help them achieve maximum growth.
Tim is a leading expert on operations and organizational development in the restoration and cleaning industries. Tim works one-on-one with owners, managers, and key employees of restoration companies throughout North America.
Bill is a highly respected coach, mentor, and entrepreneur, having spent most of his career in the restoration industry. After owning and running successful restoration companies for over thirty years, he now uses his unique insights to help businesses overcome difficult challenges and achieve their professional goals.
John is an authority in sales, sales management, and entrepreneurship, having worked for a Fortune 500 manufacturer and owned a franchise business. His experience and coaching style help clients exceed their goals in sales, cost control, and producing high-performing teams in any competitive environment.
Chris is a veteran of the restoration industry, having experience as an independent claims adjuster before becoming an estimate reviewer and a district manager for the world's largest independent claims management company. He targets sustained growth for clients through team building, conflict resolution, and data analysis.
Christie is an accomplished executive with a background in business development, sales and marketing, and sales management with much of her experience coming from a well-respected restoration company in the Carolinas. Additionally, she has experience in real estate, banking, and small business ownership.
Josh is a seasoned veteran of the restoration industry with a background in operations, estimating, and project management for two highly respected restoration companies. His analytical approach and "meet you where you are" coaching style help clients create highly functioning teams to achieve sustained growth on their terms.
Julie is a certified HR professional with over 25 years of experience in Human Resources and a passion for helping small businesses excel through effective human capital management. Over the course of her career with a Fortune 500 HR outsourcing organization, she consulted and coached business leaders on all aspects of the people side of business.
Julie Blum, SPHR, SHRM-SCP
Ready to make this a record-shattering year?
Coaching services for restoration businesses and customized business solutions devoted to the restoration industry is what we do.